Concept
A premium place to enjoy a world class superb view of "TOKYO" is without a doubt XEX ATAGO GREEN HILLS, reborned with more international space since October 1st.Located on the top floor (42nd) of the Mori Tower, the Italian restaurant is re-branded as a Steak House "Salvatore Cuomo Bros." incorporating the benefits natural products from all over the country.An became tempura & sushi An, a wonderland that can be enjoyed in various situations through its tempura counter and much more. Now enhanced club events are held on a regular basis at The BAR for ladies and gentlemen, to gather, meet and enjoy with more originality and entertainment.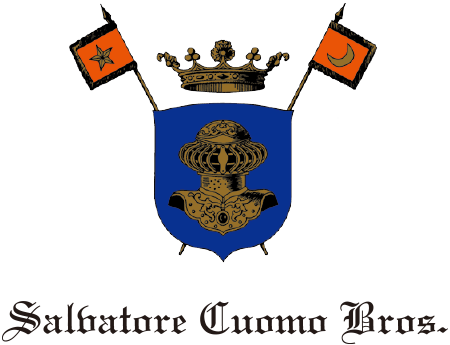 Salvatore Cuomo Bros.
"Salvatore Cuomo Bros." is newly equipped with the world-renowned "Josper " Grill Oven. Only three restaurants in Japan have such oven and we offer finest grilled dishes including snow aging(※) products with its unique method of cooking to bring out the flavor of ingredients. We proudly open Tokyo's best Charcoal-grilled steak house inspired by Salvatore-Style Italian.

※ SNOW AGING 雪室熟成 "Yukimuro" is commonly known as Ice House buildings used to store ice throughout the year ordinarily used prior to the invention of the refrigerator. It is a traditional cooling process inherited in Niigata region known for its heavy snowfalls. The atmosphere is kept cool and moist, perfect to refrigerate rice, fruits, vegetables and other perishable foods. This process additional benefit is to increase the nutrient such as sugar, vitamin and amino acid and result with more natural sweetness and enhance the flavor of the foods.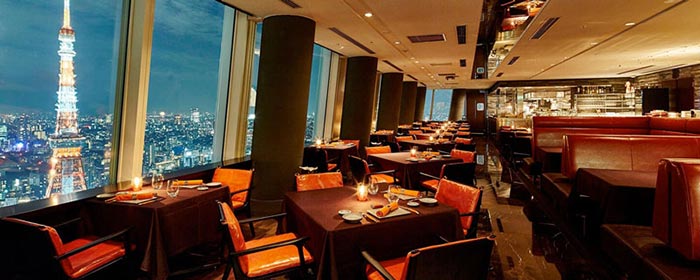 Opening hours
Lunch
11:30 - 15:30 (LO 14:30)
Dinner
17:30 - 22:30 (LO)

tempura & sushi An
Traditional Japanese cuisine "Washoku" has been added to UNESCO's Intangible Cultural Heritage list. Offering traditional multi-course Japanese dinner "Kaiseki" and seasonal Edo-style Sushi.Newly set tempura counter enhanced the atmosphere of the restaurant to enjoy authentic Washoku.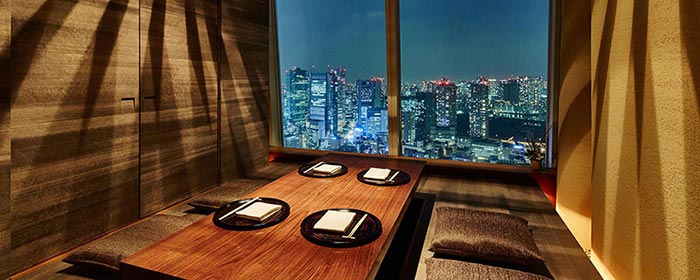 Opening hours
| | |
| --- | --- |
| Lunch | 11:30 - 15:30 (LO 14:30) |
| Dinner | 17:30 - 22:30 (LO) |

The BAR
Enjoy spectacular panoramic night view of Tokyo along with specialty artisanal cocktails and well-chosen wines. Holding regular events "Penthouse Night Club", inviting celebrated DJs, to offer you extraordinary and the most pleasant time at The BAR.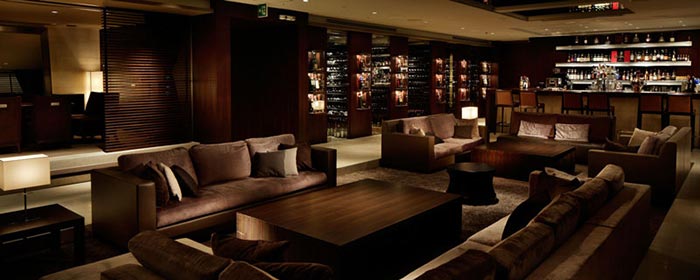 Opening hours
| | |
| --- | --- |
| Cafe | 11:30 - 17:00 (LO 16:30) |
| Afternoon Tea | 13:00 - 17:00 (LO 16:00) |
| Bar | 17:00 - 28:00 (LO 27:00) |
DRESS CODE: Casual elegance
Men: please refrain from wearing sleeveless shirts, sandals, short pants such as knee-length, ...
Women: please refrain from wearing too-casual clothes, casual sandals, ...
Please contact us if you have any questions.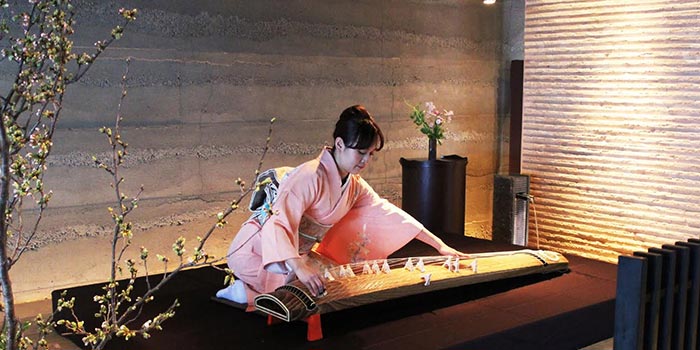 Every wednesday we implement a live music of the traditional japanese stringed instrument "koto" (except public holidays)
Schedule:
1st 18:30~
2nd 19:30~
3rd 20:30~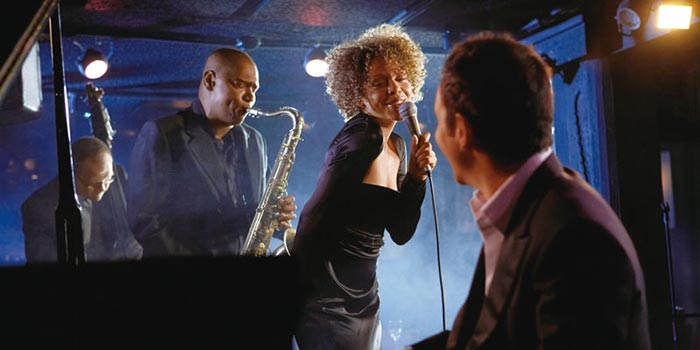 During bar time, you can enjoy and listen to live jazz music in the "bamboo" lounge.



Schedule:

Weekday:
1st stage: 21:00~ / 2nd stage: 22:20〜 / 3rd stage: 23:40〜 / 4th stage: 25:00〜

Weekend & holiday:
1st stage: 20:00~ / 2nd stage: 21:20〜 / 3rd stage: 22:40〜 / 4th stage: 24:00〜

*Each stage is about 30 minutes.
*Performers are subject to change according to circumstances. Additional fee after 20:00 (¥1,500 - tax and service charge not included)
Access
XEX ATAGO GREEN HILLS

Address: MORI Tower 42F., 2-5-1 Atago Minato-ku Tokyo
Phone: 03-5777-0065
Access:
4min, walk from Exit 3 of KAMIYACHO Stn.on the HIBIYA Subway Line.
3min,walk from Exit A5 of ONARIMON Stn.on the TOEI MITA Subway Line.